A wooden dining table should be chosen for these reasons
In feng shui, five elements are: Venus- Jupiter – Mercury – Mars – Jupiter – Saturn, Jupiter is considered the weakest, little effect on most human destiny. But the issue was considered Jupiter most feasible solution, easy application for anyone who wants to change, modify feng shui in home.
Wood has primarily yang energy, but it also has elements of yin. It is associated with the season of Spring and new beginnings, new life, and new growth. It has the qualities of combined strength and flexibility.
Furniture is what can be decorated easily in each house, they not only bring the value of substance and aesthetic but also create a healthy living space, and it is important to promote a natural airflow in the house, in accordance with feng shui in general. It is also one of the reasons, the construction industry experts recommend that customers should use the wooden furniture in the house.
Furniture in the home kitchen is always the owner's interest because a full kitchen with modern amenities will bring excitement to everyone in the family, especially the women. Comes to kitchen furniture, certainly indispensable dining table – where family meals gather together. Many people have chosen for your kitchen wood dining sets. So why wooden dining table is favored so much?
Wood is a widely used material in interior design, as this material is popular, easy to process, and easy to mix with other materials. It appears everywhere in the house from the floor to the furniture. Wood products provide a warm feeling of living space and are rarely outdated. In addition, furniture made from wood is easily combined with furniture in different styles ranging from modern style to classic one. Wooden furniture is used widely in Vietnam because it is less heat-absorbing and often gives a cool feeling.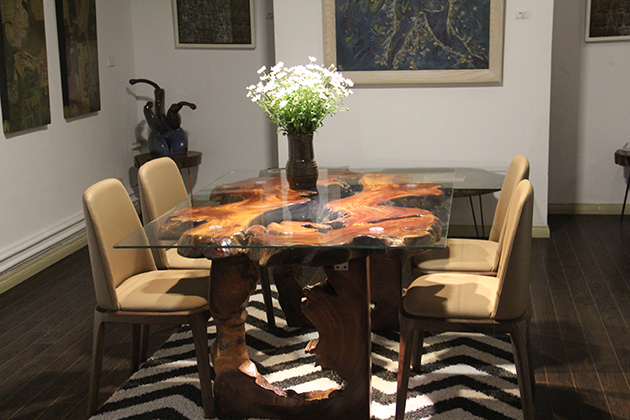 A Durable wooden dining table
At present, the common material used to make dining tables is natural wood or laminated wood. Each type of wood has advantages and disadvantages, but generally, two types of materials are very durable, little is lost, damaged over time, especially in natural wood.
Wooden dining table with various designs bring more choice
Wooden dining tables are now made with many designs are varied, can easily combine perfectly with the space in dining room, from broad to narrow, from the simple, modern style to the luxurious dining room to express aesthetic as well as the level of homeowners.
If the living room is where the host welcomes guests and relaxes with the family and friends, the dining room is where people gather together, enjoy delicious dishes after a long day of study and work. It is also the place to hold family parties as well as to receive friends and guests. With such an important role, any family has to have a beautiful dining table! It is not just a simple dining table, but also an intimate friend of the host when they receive guests or hold a party. Do you need to buy a unique dining table?
Wood dining table easy to use
Wood is a material is evaluated with the friendly, easy to use in the room, bring many benefits as well as matching features rustic, natural. Natural wood is less moisture and tough, hard, with high stability, resistant to impact. So without too fussy to clean and be careful in the process of using this type of table.
Wooden dining table at affordable prices should be easy to buy
Today the wood resources are scarce, so generally, the wooden furniture has higher prices than products made from other materials. Because of good quality and durable using, less damaged so when buying wooden dining table will save a lot of costs in repairing. You should choose for your family dinner table sets made of wood, suits with the bag of money just bring luxury to space in the room.
Wooden dining table protects your health
Besides, natural wood furniture making assured about their health when using. Because of the wood products from the very benign nature. Wooden dining table gone through less machining stages from the other material so they don't contain chemicals harmful to health.
Therefore, for those who love a cool and fresh space, wooden furniture is a perfect choice. Now Nguyen Moc Decor is supplying a lot of wooden furniture. Nguyen Moc Decor will bring you many good quality products at affordable prices which are suitable for everyone's pocket. These are table and chairs, wooden coffee table, wooden table, wine rack … with simple style but original presenting the unique personality of the owner and the talent of the craftsmen. Here are some of the most beautiful, most attractive wooden table models that anyone cannot take their eyes off. The quality with the motto "bring real value", we expect customers to be using real products with real rates in the repository. With a professional staff, we do not just sales that the desire to establish long-term relationships with customers.