Your house after a long time using became old and you want to change it to the living space becomes more innovative, of course. This is the moment you need to repair and refresh your furniture for their homes to regain inspiration, as well as relaxation. Let's Nguyen Moc Décor explore 6 new way of housing space is extremely simple.
Get rid of one thing
Many people think they need to buy something new to transform a room, but if you don't get rid of something old, you aren't creating the elbow room you need to bring new stuff in. Before you start shopping, choose a piece of furniture or an accessory to donate to your local Goodwill or Salvation Army. The bigger the piece, the more space it opens up for change.
Mix things up by rearranging
Tiny floor plans may not have the flexibility to handle too much rearrangement. On the bright side, living in a small space means there's less furniture to move around, so you can try new things without investing too much sweat equity. And since everything counts in a small room, just moving a couple of chairs or re-arranging some knick-knacks can make a big difference.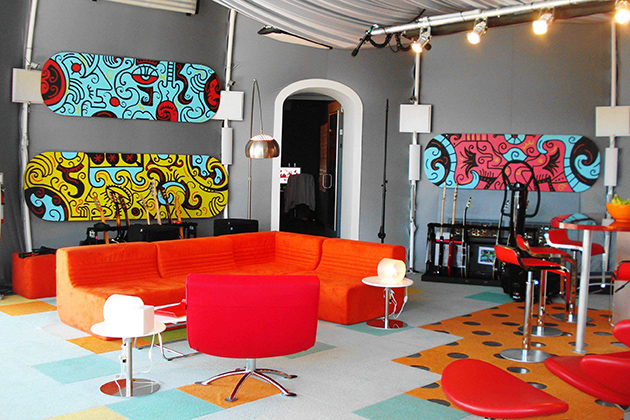 Rather than throw out an old piece of furniture and buying a replacement, try reinventing it with a burst of fresh color. Get a pot of paint and create a unique and original item tailored to your own taste and style – it will be cheaper, more fun and far more rewarding.
Other easy ways of changing up the colors in your living space are pillows, decorative sculptures, painting old lampshades and of course, a new statement rug or wall art!
Add greenery to your living space
Plants and greenery are common staples in many homes, and while they are great for decorating homes and adding freshness and color, they also come with a heap of benefits too. Real life houseplants can help with everything from cleaner air to noise control.
Don't have the funds or time to maintain real-life houseplants? There are a lot of artificial plants and flowers out there that you may incorporate into your living space, or better yet, opt for terrariums or succulents like cactuses for a sturdier, reliable option.
Keeping with the minimalist trend, simple but effective plants adorns the dining table for a much needed 'breath of fresh air' into this living space.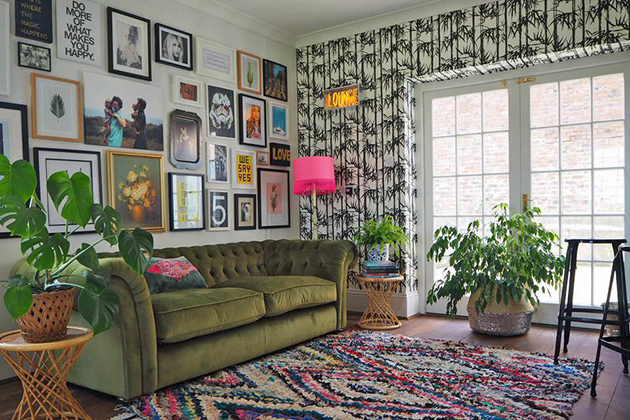 A new accent wallpaper
An accent wall is a perfect way to break up a large living space or to emphasize a great architectural feature. To begin with, creating and crossing an accent wall color or wallpaper, it all comes down to how much of a dramatic effect you are aiming for. Going for a bold, all of the colors are a safe option – but for something more out there, opt for a real-life looking industrial style brick wallpaper for that edgy look.
Concerned about applying wallpaper and it leaving permanent markings? Rest assured, interior design innovation has come a long way since the 1960s.
Removable wallpaper (otherwise known as 'peel and stick') is a great tactic to add color and personality to space without damaging the walls. Be inspired by this easy trick and incorporate removable wallpaper decal into your own living space to create that 'it looks so real I can't believe it' feature accent wall.
Change the new coffee table In the living room
If you want to change the housing space, let's think of changing living room. This is where people gather in family activities, as well as a seating place should be focused. The simple way to make the new living room of the main house is changing the furniture. Please replace a unique wooden coffee table immediately Instead of the old traditional coffee table. Natural wooden coffee table combined with hairpin legs are great suggestions for you. It not only refreshes the old sofa but also creates impressive points for living room space. To relieve the monotony for the familiar furniture, you also can add a few ornaments on the table. It can be a vase of fresh, a tea set or ornament unique ceramic.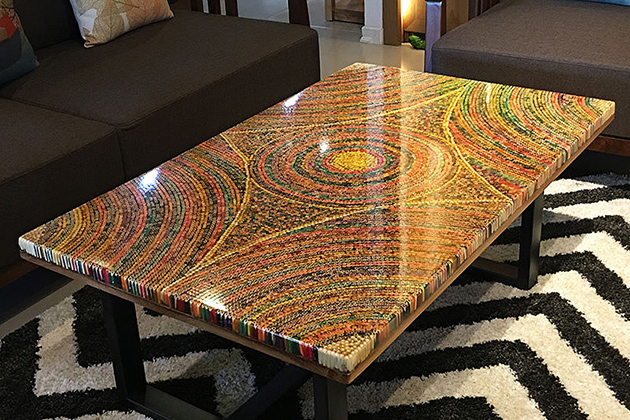 Add Color To The Gloomy Kitchen
Did you get bored with the kitchen bleak? Please immediately change your cooking space by adding some color highlights. These warm colors are always priorities in space cooks because of its ability to stimulate the palate, creating more cravings. You can paint the kitchen wall with striking colors such as orange, yellow or red.
Hope these hints of Nguyen Moc Décor that will help you get a perfect living space! Nguyen Moc Decor will bring you many good quality products at affordable prices which are suitable for everyone's pocket. These are table and chairs, wooden tea table, wooden table, wine rack … with simple style but original presenting the unique personality of the owner and the talent of the craftsmen. The quality with the motto "bring real value", we expect customers to be using real products with real rates in the repository. With a professional staff, we do not just sales that the desire to establish long-term relationships with customers.