Time management, of course, in order to help us make the most of our time. As the cornerstone of time management, timepieces can help us stay in control of our time. Let's take a closer look at how you can place wall clocks in your home most strategically.
Before deciding where to put the clock you should evaluate the function and style of your clock – is it modern, classic, retro, classic or is it Rustic & Unique Decorative Wall Clocks? Does it have a full body or is it only hands? Is it large and round, slender and a bit irregular or is it Art Wooden Clock? Does it fit in with the décor and does it reflect your personality? Have you found your dream clock!?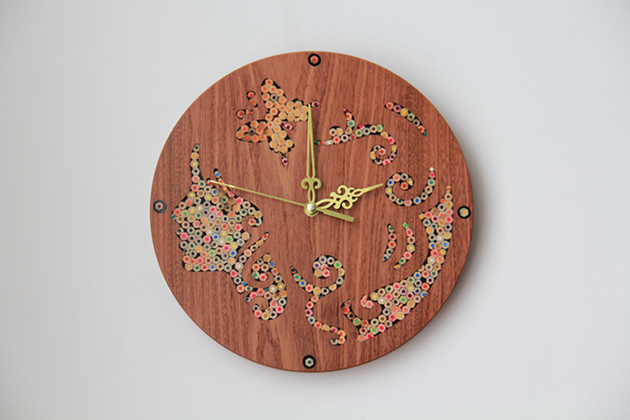 You may think, in the era of today's smartphones and tablet PCs, that with so many functions, and with their always-on light-emitting display, wall clocks will be outdated. Not so If anything, these timepieces are more on-trend than ever. Beyond being mere devices to help you know if you're running late for work, they're unique clocks and fabulous interiors accessories that add style, attitude, and character. These ideas for original ways to hang a wall clock perfectly.
To maximize the effect of the wall clock consider your routines and where you are right before you need to be somewhere. Are you in the bathroom putting finishing touches on your hair? Are you at your desk reading the book or the newspaper? Are you in the kitchen having the lunch to take with you to work? Put wall clocks in these places, or where they are visible from these positions. If you need an alarm clock, it must be in your bedroom. Your bedroom is also a place to rest, so you need to make sure it is as relaxing as possible. Bedroom clock should be quiet and not annoying. For example, art wooden clocks, no sound, will not affect sleep, especially for the use of the bedroom.
Wall Clock In The Kitchen
The classical clocks fit the kitchen perfectly. A kitchen is always a great place for the family clock – we tend to spend the most time there – getting ready for work, getting the kids ready, making breakfast, lunch or dinner, and it's the most convenient place to keep you on track. Need to be in by 10 am? Then there is still time for pancakes…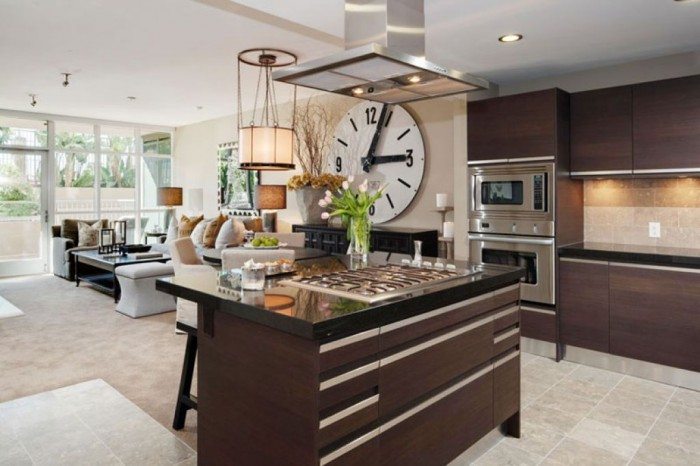 Wall Clock In The Living Room
The living room is the second popular ideal place to hang wall clocks. When not in the kitchen, the family spends most – if not all – of their day in the living room. For this reason, it's also one of the best locations for keeping the wall clocks – it will keep the whole family on time. Besides, the living room often has the most space, biggest walls and highest ceilings in a house, making it the ideal place to display a truly artistic, large statement clock.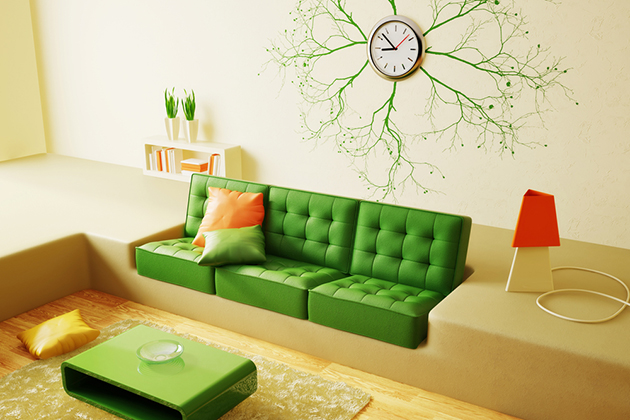 Wall Clock In The Bedroom
Make a feature of your sleep space by hanging a wooden clock above your bed. If you don't like to have anything heavy above your head, go for one of the many timepieces that blend in with the wall.
In the bedroom, clocks are mostly hung above (or across from) the bed, and as bed-side alarm clocks. If you're a light sleeper, you should check whether a wall clock has a loud tick before buying it for your bedroom.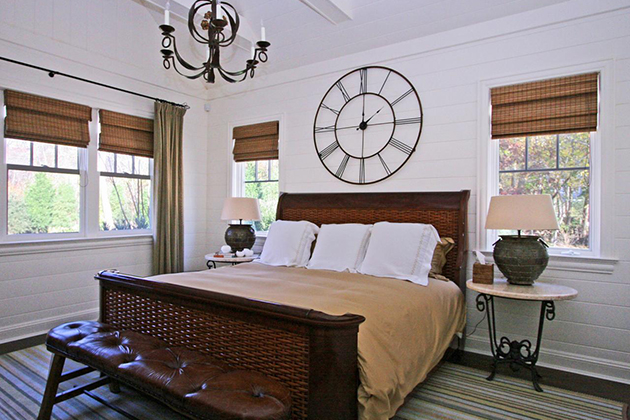 Some Tips Hanging Clocks To Attract Prosperity
Many of us would never have considered or given importance to wall clock placement. If the clocks are placed incorrectly in the house, it leads to adverse effects. There are some simple tips to welcome abundance and prosperity when clocks are placed in the right positions.
The ideal walls to place clocks are North, North East, and East. When wooden clocks are placed in the North zone, it is known to bring wealth to the residents. When placed in the North East zone, it attracts prosperity and when placed in East, it brings good health. Remember that do not ever place or hang a clock on the South, South East or South West wall as it brings ill health and bad luck to its residents.
Make sure that the unique clock is never hanging above the door that you enter and exit from as it tends to bring bad luck. Make sure that the clocks and watches are in good condition. Remember that they represent time in your life. Let them be of great quality and never hesitate to invest in a good watch. A good watch represents good times. If stopped or spoilt, get these clocks repaired or replaced instantly with a new one. Stopped watches and clocks should never be allowed to be displayed as they symbolically bring stagnation to your life.