People are always looking for new ways to add value to their property, specifically their homes, whether by animating a kitchen or creating an open-plan space, but raising the price of your home doesn't have to mean breaking out tiles or knocking down walls as your garden could offer the easiest answer to cashing in.
In fact, new research by gardening experts McGregor revealed that focusing on an outdoor space could help you add as much as £5,000 to the value of your home. this is because our homes are, on average, smaller than ever, so we're looking to the outdoors for space to entertain and relax.'
The garden is definitely an extension of the kitchen and living space. Especially, if your homes are, on average, smaller than ever, so you should look to the outdoors for space to entertain and relax.
Making over your garden is one job that you will thank yourself for come summer time. There's nothing quite like some alfresco living of an evening after work or on a sunny weekend and a beautiful garden space makes the prospect even more tempting. Prepare for an influx of outdoor space ideas from our favorite designers, from London townhouse terraces to island paradises. Read our Outdoor Furniture Buying Guide and shop our outdoor collections to get the look.
Tranquil Garden Nook
An inviting yard provides a mix of beautiful flora, shady nooks, a resting spot, and perhaps area to entertain. These outdoor space take it to step further, giving the owners a space to escape to their own backyard oasis. Find a unique way to design your own tranquil retreat.
Who's not looking for a place to dive into a book? Why not enjoy the outdoors while reading a great novel. Ground covers and trees give you a lush garden with a little path for you to take to find that quiet place.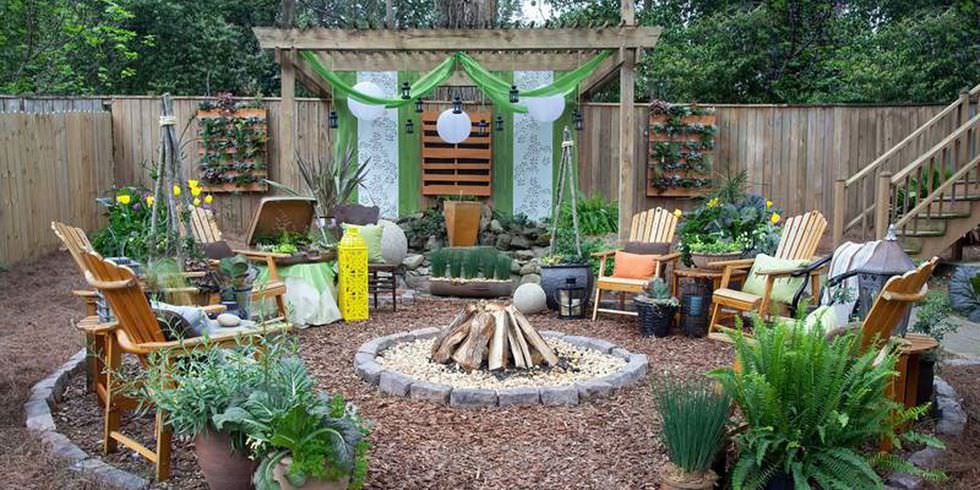 This effortlessly serene seating arrangement showcases the impact an outdoor space can have when it's wonderfully well-designed. Laura Hammett uses a perfectly livable tonal palette of ivories, creams and dove greys alongside pretty decor, proving that it's not just an option to decorate your outdoors with vases, baskets and throws like their indoor counterparts – it's a necessity. Shop the collection which it inspired here.
Fresh and Morden Inner City Courtyard Garden
Designing a small city courtyard garden can be tricky business. There is only so much you can cram into a small space, so how do you achieve it all without creating a cluttered mess? First, start by making a list of everything you would like to accomplish in your courtyard and then prioritize your wish list.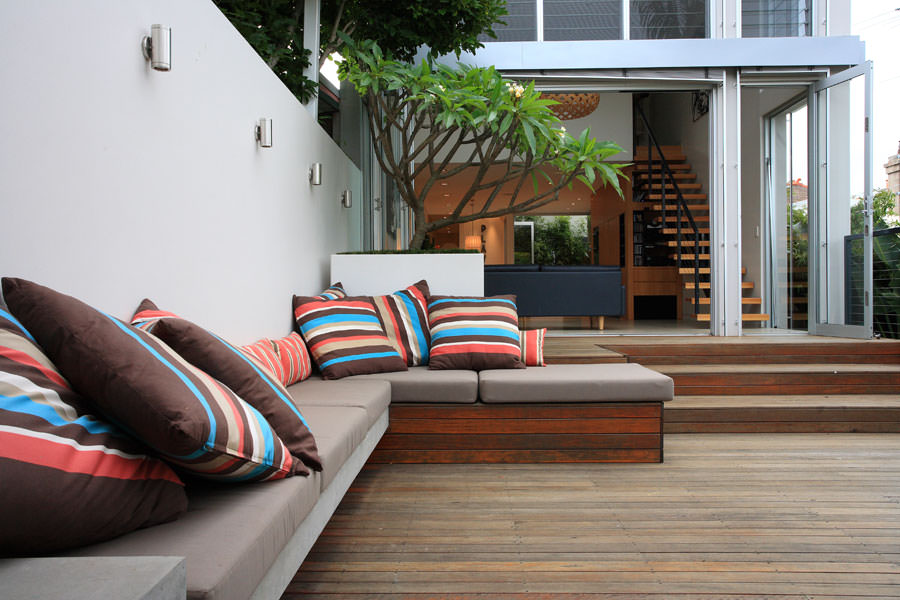 Lack of storage space is often a problem in inner-city courtyards. The garden pictured is an excellent example of how to have it all, in a small space. Using similar colors throughout the garden can help to create a harmonized space.
A unique feature for a city home (especially in the famed Eaton Square), a London courtyard calls to be seriously taken advantage of. To make this home's outdoor area something special, Finchatton landscaped the space to create a lush, multilayered environment and then decorated with a modern ash grey flooring and contemporary garden furniture. A contemporary secret garden at its fines.
Monochrome Moment
Using similar colors throughout the garden can help to create a harmonized space. The garden in the photo uses greyed timber, which blends with the concrete and sofa cushions to create interest without conflict. With that being said, don't hold back on a splash of color!
Helen Green chose an impossibly fresh alfresco vibe for this city aerie with updated wrought iron seating decorated with brilliant white upholstery, a smartly trimmed hedge for a touch of nature and simply glamorous golden pots. Mismatched patterns play on the cushions to soften the formality of the space.
Sunny Balcony Garden – Plants and Furniture
Balcony gardens are in some ways the perfect outdoor spaces. Convenient, large enough to sit on (hopefully) but not so big as to create too much work or study, just perfect to stamp your personality on and create really amazing things outside. They don't have soil, so won't have weeds, that's great they have fewer pests.
So if you have a sunny balcony the best flowers or plants to have will be ones which can deal with lack of water. There's a reason geraniums are the balcony plant of choice in Mediterranean countries, they are bright and colorful and won't wilt if they are left for a few hours (or even days!) in the sun.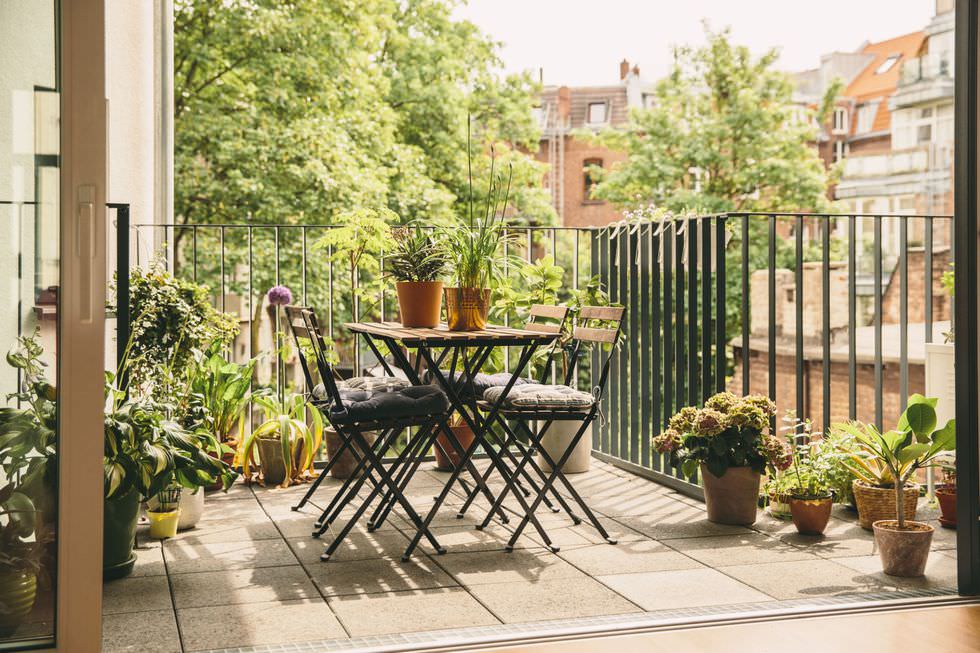 Katharine Pooley transforms this quintessential London square balcony with beautiful trees and a chic sofa and table set finished with alternating white and seafoam green cushions. The black and white chequered flooring is the ultimate London look.
City Haven
According to the designer Karina Lazareva "This is a belittled, familiar and surrounded by a ground floor apartment within the bustling city of Moscow; a tranquil space in which to avoid the fast pace of a professional lifestyle. Big shrubs and small trees break up the bound lines, hold the eye within the space, and make a degree of privacy from neighboring gardens and apartments."
Inspired by his clients' love of family and traditional sensibilities, Jordan Carlyle of Carlyle Designs transformed a New York Chelsea penthouse into a sky-high home which bridges the gap between urbane city living and transitional sophistication. "The biggest highlight of this project was that we had wonderful clients who allowed us to have complete creative freedom – that enabled us to play with all sorts of textiles, wallpapers, and furnishings. The end result was a sophisticated transitional paradise on top of Manhattan." The transitional style extends to the home's outdoor terrace which includes comfortable couch seating, an oversized circular mirror which reflects the city skyline and a dining set complete with elegant klismos chairs.
Cityscape Views
Take in cityscape views, relax in swimming pool, have a dinner with a special someone, or simply enjoy the greenery, perhaps with a book in hand, in the central Philadelphia location.
Although A.LONDON's minimalistic approach to this terrace allows the iconic city skyline to do the talking, the furniture choices are far from simple. A unique dining chair made up of twisted bands and a barely-there frame adds just the right amount of texture whilst two capacious corner sofas or sofa bed, accented with vibrant outdoor cushions, provide plenty of apres-dinner seating.
East Hamptons Poolside
If you've been dreaming of relaxing summer days spent poolside, it may be time to consider hiring an East Hampton pool builder.
Bella Mancini adds classically-lined furniture in a timely limed wood finish to this Hampton's patio and pool area. "With the outdoor spaces, we wanted to create spaces that felt like an extension of the inside – furniture that could live side by side in harmony when sitting in one area or another, from simple poolside sun loungers and garden chairs to exotic day beds, hanging chairs and modular outdoor furniture." There are exciting shapes, spacious designs and chairs, sofas and sun loungers made for more compact locations. the designer recalls of the project. For that indoor-outdoor vibe, individual fabrics for the Restoration Hardware furniture were chosen for the outdoor area's various zones. "It makes it all feel a little more custom and special than having everything the same", Bella explains, "The furniture is clean, classic and timeless, just like the house.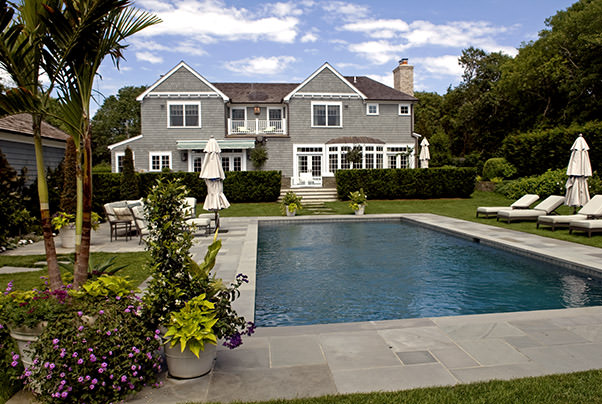 Chic City Terrace
A.LONDON added texture to this rooftop venue in the form of the unique, contrasting weave of two facing sofas. The geometric pattern of the weave and its oatmeal color palette stand out against the rooftop's glossy black woodwork. Oversized lanterns and planters, a wireframe table duo and a beautiful stone fireplace were chosen to elevate the look further.
Spanish Villa Style
Spanish style villa design is one of the Mediterranean style villa design, is of strong culture in the era of the fusion, the Spanish style villa design pays attention to the beauty of the form and space is fluent, combined with the modern life the advocation simple nature, send out a Mediterranean life romance and bold and unrestrained.
The creation of Spanish style villa design is the ocean amorous life experience space. To give people the vast empty feeling of the sky, unlimited access to nature, enjoy the sunshine. Blue and white, yellow, blue and purple and green, the earth yellow and red-brown is the classic color collocation of Mediterranean style villa design. Spiritual connotation: advocating nature, simple, enthusiastic, free and bold, colorful. The Spanish style seems undefinable because of her diversity and her charm. Therefore, if you want to design a Spanish style villa, you should not look for symbols, but to fully understand Spanish culture and understand the spiritual world of Spanish people.
Spanish style villa design is more influenced by Islam (Arab style), more mysterious, inside collect, composed, some heavy, colour also more primitive simplicity, architectural design elements and some change, another difference is that the villa interior decoration design, furniture design in Spain often with aristocratic temperament (15th century gothic Renaissance column type detail ~ silversmith type. The palace, the church's super baroque, and the Mediterranean decoration design is more primitive nature.
Designer Eric Kuster sticks to a palette of white, white and white with this Altea Beach residence and the effect is one of luxurious simplicity.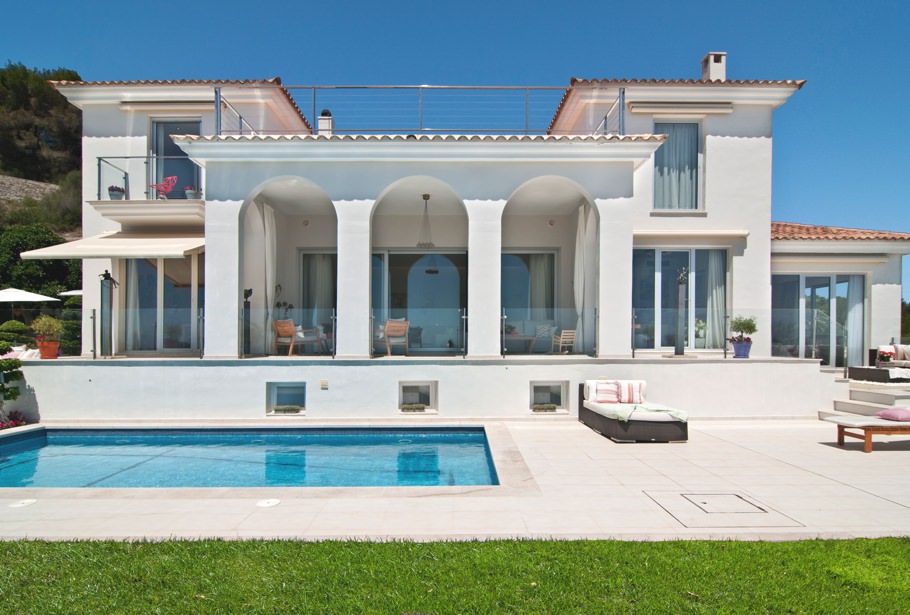 Celebrity Outdoor Style
For paparazzi-plagued celebrities, what better place to entertain than at home in the garden, in the seclusion of a chic dining area? Whether situated by a crackling fire pit or beneath a vine-draped pergola, the outdoor seating spaces of stars such as John Legend, Khloé Kardashian, and George Clooney are the perfect spots for intimate alfresco gatherings.
Kourtney Kardashian's former home featured a heavenly seating area in its entryway. Created by Jeff Andrews, space plays on its fresh white backdrop with capacious skirted outdoor armchairs in a white linen-like outdoor fabric. A slick black ice pit, white rattan bistro set and lush citrus trees ground the seating area.
Perfect California Haven
Beverly Hills, California, in Los Angeles County, is 6 miles NE of Santa Monica, California (center to center) and 9 miles W of Los Angeles, California. The city is a popular tourist destination and lineaments some of the biggest houses in the county and the United States. Beverly Hills is one of the most costly housing areas in the country.
Can there be anything that epitomizes Beverly Hills more than an expansive garden with towering palm trees, set behind a spacious mansion? The home's monochromatic scheme is mirrored in the outdoor furniture arrangements.
Calming Outdoor Living Space
Modern outdoor living spaces are known for restful and relaxing outdoor environments that resemble an indoor room without walls. Having an attractive and relaxing outdoor living space or outdoor room will enhance the appeal and value of your home. Popular outdoor living spaces include gazebos, arbors, outdoor fireplaces, fire pits, outdoor kitchens.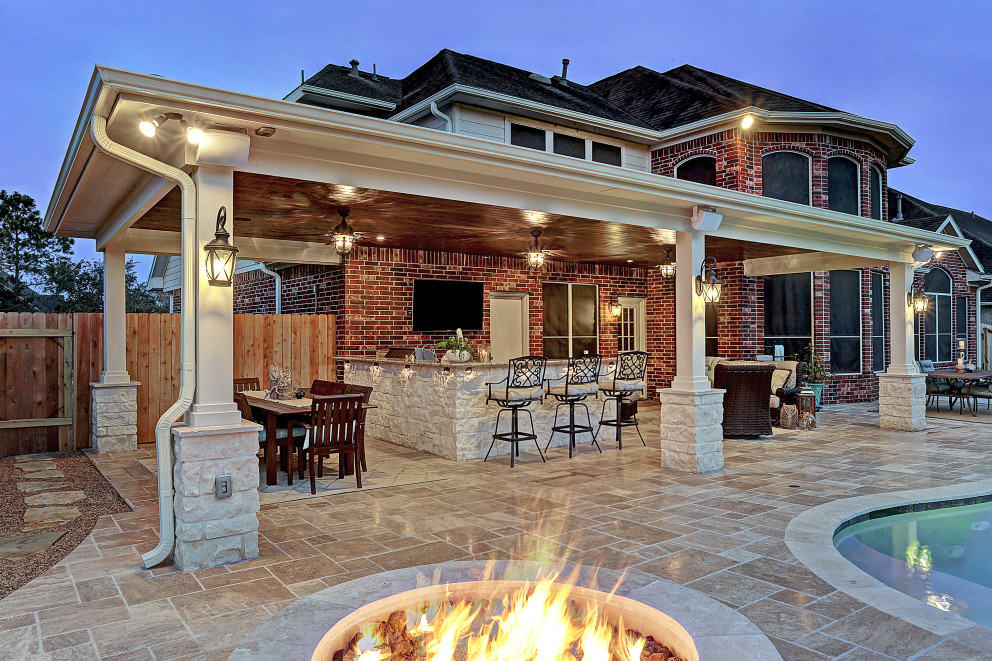 A wood-like frame upholstered in a white outdoor fabric is the quintessential outdoor furniture for brilliant white Mediterranean villas. Eric Kuster pairs plush cushioning with simple lines for an ultra-modern aesthetic which suits this property's Spanish cliffside locale.
Dutch Colonial Garden
Colonists and Europeans often exchanged plant material. Species from the "New World" were shipped to England, and plant material that originated in areas such as Mainland China traveled through Europe before making the trip across the Atlantic Ocean. Plants brought to the Colonies included fruit trees, vegetables, herbs, and flowering bulbs. Colonists from England and the Netherlands created gardens that reflected their traditions as well.
With such a glorious backdrop, Jennifer Post chose to accent this lush poolhouse area with classic white loungers and a blue and white seating ensemble, which pays homage to the white-trimmed and clapboard-clad Dutch Colonial style of its main house.
Tailored Relaxation
Laura Hammett masters lounger heaven with this perfect poolhouse arrangement. Five identical loungers (in a smart grey and white stripe fabric) are accented with matching side coffee tables for an outdoor look that's seamless and sophisticated. "What I like about these pieces is the timber that is used. It's beautifully crafted and soft to touch. Wood is definitely my preferred material of choice when it comes to outdoor furniture in the UK. This is predominantly down to the fact that timber retains its heat so well."
Minimalist Terrace House
A minimalist terrace is something really 21st century like and trendy, this is not only a terrace of a president suite in some super expensive hotel, you can create such a fashionable space at home. Go for a natural wood deck to add warmth or for concrete or tiles to make the floors more durable. Be laconic in furniture choice and the use of materials: concrete, stone and wood are sufficient, and if you think it's boring – just play with textures. Black and white are traditional colors for minimal style, add grey, blue or some other bold colors to make your terrace livelier.
Minimalism reigns supreme in a Hollywood Hills raised terrace. Taking inspiration from the home's clean lines and architectural forms, each area of the terrace is given its own function, whether dining, hosting or relaxing, and is kept uncluttered and simplified. In the foreground, a singular dining table set stands simply before glass railings, which allow an uninterrupted view of the garden below. A mirror set on the back wall is used to emphasize the garden's size in a clever design move.
Contemporary Ibiza Terrace
For her own Balearic villa, designer Brigitta Spinocchia-Freund spared no effort in creating inviting and varied outdoor spaces. Here the seating area is flanked on one side by a bar; elsewhere on the property are a meditation and spa complex and a children's garden modeled after Tim Burton's Alice In Wonderland.
Comfortable Garden Design
Remember you're out to create a space, like making house and garden join seamlessly with continuous concrete floors and separated only by glass doors. Design the outdoors as a place to live in year-round. Don't think of it as a place to visit on special occasions. Think rest and tractability as well as the outdoor fireplace, shower, spa, and bed.
"The reason I loved the style of these pieces is that they have a slight classical feel to them," Laura Hammett explains of this circular outdoor seating arrangement, "As a company, we're not modern but we're not traditional either. I like to think that we sit somewhere in-between – timeless designs. I'm not a big fan of the very blocky or very minimal outdoor furniture, but I also don't generally love ironwork."
Ocean View Balcony Seating
The views of this Altea cliff house demanded a frontal seating arrangement along its expansive balcony. Designer Eric Kuster incorporates an expansive sofa which perfectly blends into nature which surrounds it.
Al Fresco Dining
In the same project as the curved seating, Laura Hammett brings a touch of indoor style to this al fresco dining arrangement. She explains, "Another thing I really love to do when designing outdoor spaces is to create them as an extension of the home. The upholstered chairs are great for this I also like to add cushions too; they help in softening the look."
Blue and White Outdoor Cushions
If you prefer to keep your interior living spaces fairly neutral then your outdoor living space is one where you can play with a little more color. We love a classic blue and white palette – it's fresh, it's timeless and it's undoubtedly a palette favorite.
These Blue/White Stripe outdoor cushions are filled with polyester fiber for ultimate comfort and made of 100% spun polyester that resists mildew, fading, and stains.